November 2015

Himmerland have had a busy time during late Summer and Autoum. The touring activities have braught us to England/Bath Folk Festival and later to Scotland ,in Edinburg and Fife area – At the gigs in Scotland we had the great pleasure to perform with Scottish Fidddler Eilidh Shaw – We decided to keep the good spirit and work on a Scotland tour to happen in sept/October 2016, together with Eilidh.
- Inbetween that we've been touring all over Denmark , enjoying to visit places and events that we never played before, like Hjarnø, Helsingør Kneipe Festival, Højer(nearby Tønder) and the amazing Friland , alternative settlement near Aarhus. – We ended this beautifull Autoum tour in Thorø Huse Forsamlingshus at Fynen.
– Next activity was promotion work at Womex in Budapest, where we had the pleasure to meet lots of old friends and new also, trying to get the planning for 2016 going ! – the start of the new year will bring us to Glasgow as we're doing at double show together with Nuala Kennedy Band at The Royal Concerthall, Strath Clyde Suite – this will happen during the Showcase Scotland period, that runs 27th -31st January.
-lots of activities are penciled in the calendar for the new year and as this time of year is "The time of Waiting" – we've got to stay with patience until we get the deals confirmed – Except from this is our New Zealand tour from 19th march – 3rd april that's almost all confirmed now(more details in the calendar)
- We'll come back with more news when more activities of 2016 are confirmed.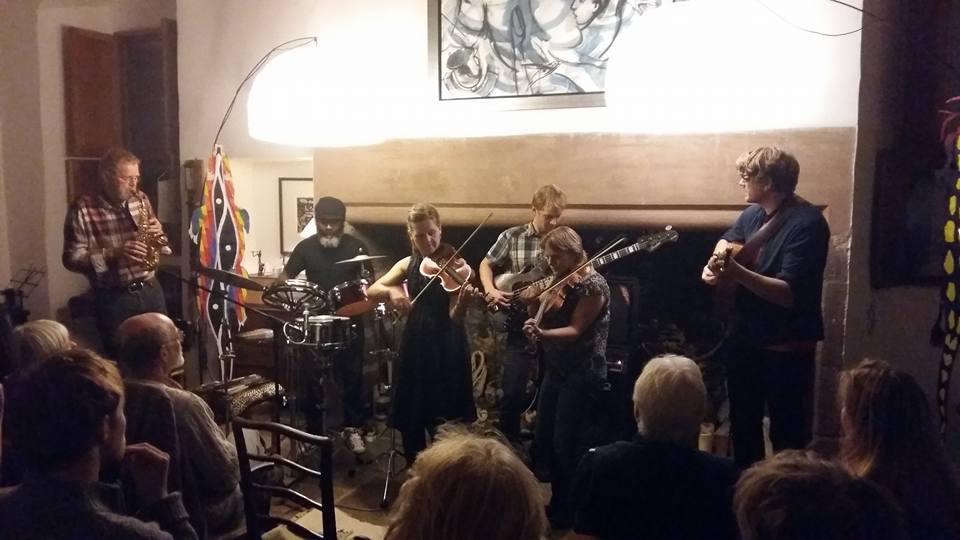 Himmerland: New Roots & World Music from Denmark!

June 2015

- Himmerland is now ready for the summer season that will take us to Finland(Aaland), Faroe Islands, Copenhagen and England – But first we will be at Halkaer Festival during this first coming weekend (halkaer.dk) We will have Danish fiddler Andreas Tophøj with us substitution Ditte while she's giving birth to her and Sigurds child nr 2, late june.

Sigurd Hockings - New guitarist joining Himmerland from August! - In good understanding between the band and Morten Alfred Høirup, Morten will stop playing with us from August. Morten has been with us from the very start in 2010 and has played a central role in the development of the band. We thank Morten for all the good times we spent together and for all his work that has been extremely important in bringing the band to the stage where we are now.

We welcome Sigurd Hockings to the band and are looking very much forward to start working with him. Sigurd is known from bands like Habbadám and Fromseier Hockings. He is one of the most skillful and versatile folk guitarists in Denmark. Inspiration for his very individual and accomplished playing style has come from both Scandinavian and Celtic music traditions.

Himmerland with Nuala kennedy - We have now come far with the bookings for Himmerlands New Zealand tour march/april 2016 – that will bring us from South to North, by others including Tauranga Jazzfestival and Canterbury Folkfestival. We are happy to announce that on this tour we will be touring with Irish Nuala Kennedy.




NEW VIDEOS FEATURING THE BAND AT FESTIVALS AROUND THE WORLD!

This first short video clip is featuring Himmerland at The National Folk Festival in Canberra, Australia, in 2014. The title of the tune is "Skrumlehesten", and it is composed by our violinist, Ditte Fromseier. The second clip is "Sol Deroppe" a song by Hans Christian Andersen, recorded at Halkær Festival - the festival where the band members actually met for the first time.




Next Himmerland is performing two tunes in The Gable End Theatre, Hoy, Orkney Islands, Kazubsteps by Andrzej, and Søndag i Maj by Eskil Romme.




The next tune is from Musicport Festival in Whitby, England, in 2013. It's titled "Danish 7/8", and it was composed by Morten Alfred and his friend Sonnich Lydom. Danish 7/8 features a great bass solo by Andrzej. The second tune was recorded at Bath Folk Festival in 2013, and it is an old traditional dance tune from Denmark. It is called "Keraus", and it is featuring Ditte's extraordinary fiddle playing.




Another video from Bath Folk Festival an old ballad about the meeting between a young man on the way to his wedding, and a beautiful fairy girl from the forest. We had the huge pleasure of having the wonderful English accordionist, Karen Tweed, joining us on this old Danish love song.



This video shows Himmerland at the little exclusive Halkær Festival june 2013, featuring two great fiddlers: Ditte Fromseier and Kirstine Sand (guest) playing Morten's "Gæstebud" and Ditte's "Skrumlehesten".



Himmerland performing the Danish song, "Det lysner over agres felt", at WithoutBorders in Bulgaria, by the Black Sea in September 2011.






March 28th

March 28th 2015: Himmerland is back from touring down under!




We all had a wonderful trip to Australia where we performed a few folk clubs, as well as Port Fairy Folk Festival and Blue Mountain Festival (Katoomba). We had to face lots of challenges, like many hours of delay on our way from Denmark, Solomon loosing his drums in some airport, Eskil loosing his saxophone and borrowing saxophones from kind people for the first 4 or 5 gigs, and so on. But we had a hell of a good time meeting old friends like the wonderful Australian singer Wendy Easley, the great Scottish-American violin-cello duo, Alasdair fraser & Natalie Haas, and the excellent Irish flute player, Nuala Kennedy and her band. We had a fantastic time performing with Nuala at The Blue Mountain Festival, which btw made Rhythm Magazine National write:

"Folk acts to impress included the Nuala Kennedy Trio (Ireland/UK), and Denmark's Himmerland. There was a old deal of questing between the two acts, and the may have ended up as "Kennedyland" had the festival run another day or two." We would like to thank the many, many people in the audiences, all the people who helped out, and everybody that supported us during those unforgettable two weeks.

Everybody got their instruments back, and Himmerland is ready for new adventures. You can see more photos from the trip on our Facebook page at www.facebook.com/himmerlandband. See you soon!





(Photo: Himmerland on The Blue Mountain Festival with Irish flute player Nuala Kennedy 2015)




Dear friends, now the new year has begun, and we are having a great time booking and planning projects for 2015. The Himmerland is adding a new member to the family, the great Danish fiddler Andreas Tophøj. Andreas is going to substitute for Ditte, who is giving birth to her second child in the summer 2015. Andreas is joining us when we visit the Finnish/Swedish Åland Islands in late June, and The Faroe Islands in the middle of July, and we are very much looking forward to perform with him. Also we are working on tours in Denmark in september and October 2015, England and Scotland in October 2015, and New Zealand in March 2016, just to mention a few. But first of all: Himmerland is touring Australia in March 2015 (The Spider in the Fiddle tour 2015), bringing not only Ditte, but also her son Falke, and her husband, Sigurd Hockings with us. Ditte and Sigurd has a fiddle/guitar-duo together, and they will play quite a few gigs with Himmerland on this tour. Follow us at

www.facebook.com/himmerlandband



(Photo: Himmerland at Fairbridge Folk Festival, Australia 2014)

January 2nd 2015: Happy, Happy New Year!!


2014 was a great year with lots of concerts at clubs and festivals in Denmark, Belgium, Italy, Scotland and Australia, plus a brand new album, The Spider in the Fiddle. 2015 is going to be equally as busy, we haven't finished planning, but we already know that we will play clubs and festivals in Denmark, Germany, Finland, Scotland, Faroe Islands and Australia . We wish you a good, strong and giving new year, and we are looking forward to meet you on our way. You can follow us by going to these addresses:

www.himmerland.it

, and:

www.facebook.com/himmerlandband

, and you can get or albums, including the very new one, at:

www. tutl.com

. Have a wonderful year!







(Photo: Himmerland is welcoming 2015)



December 28th 2014: Listen online to a live concert featuring Himmerland (for free)!
During the last

weekend of August 2014, Himmerland performed one half hour set of music at the Danish Tønder Festival, in the small town of Tønder, only about 10 kilometers North of the Danish-German border. The concert, which was recorded by the Danish online radio station, Radiofolk.dk, was happening at "Bachmann's Old Water Mill". This venue, build in 1698, is also known as "Visemøllen" (The Song Mill), where the festival took it's very beginning 40 years ago. The audience this afternoon was a good blend of Danish folk music enthusiasts and international festival organizers and media people, especially invited for this occasion, which is why we speak English when introducing the songs and the tunes on the recording. Now you can stream the full concert for free by

following this link

to our friends at RootsWorld Radio. Enjoy!





(Photo by Bart Vanoutrive: Ditte, Andrzej & Morten performing with Himmerlnd at Tønder Festival 2014)

December 10th 2014: Two weeks of folk clubs and festivals down under!
In the beginning of March 2015, Himmerland will be going to Australia for the third year in a row. This time we are looking very much forward to introduce our very new album, "The Spider in the Fiddle", at a few folk clubs and at two great music festivals in only two weeks. The festivals are: The Blue Mountain Music Festival in Katoomba, and Port Fairy Folk Music Festival in Port Fairy (four hours west of Melbourne). We are very proud of our new album, and the first reviews start ticking in. Danish Public Radio (DR) says: "To be honest with you, it has been a very long time since I have been excited with instrumental folk music the way I have been, listening to the new Himmerland-CD. So very much is happening in their music!". Besides the festival gigs we will also have time for just a couple of club gigs, including one at The South Coast Folk Club in Adelaide, before the band eturn to Europe to prepare for concerts in Finland and The Faroe Islands. Here you can watch a short video clip featuring Himmerland at The National Folk Festival in Canberra, Australia in 2014.





(Photo: On tour in Australia March 2015)



November 11th 2014: What a party - The Spider in the Fiddle has left the house!


Now, that was a lot of fun: Himmerland playing a concert with a mix of tunes and song from our new album, and older hits, in front of a specially invited audience, in the heart of Copenhagen. We had invited Kirstine Sand and Kirstine Elise Pedersen from Fiolministeriet (Ditte's violin, viola and cello trio), to open the show, and they joined us on stage during the concert. Now our new album, The Spider in the Fiddle, has left the building to start it's own life, promoting the band around the world. You can get the album at

www.tutl.com

and

www.cdroots.com

!





(Photo: Himmerland playing with Fiolministeriet at Bartof Station for a dedicated audience November 7th 2014. Photo by Lone Lambert.)



November 2nd 2014: "The Spider in the Fiddle" is here!


It's here, Himmerland's brand new album, The Spider in the Fiddle, it's here and we are so proud of it! It turned out just the way we wanted, and we are looking forward to travel around to present it to you during the next couple of years. Right now plans are being made to visit Denmark, Germany, The Faroe Islands, Italy, Australia and more. The album can be purchased at: www.folkshop.dk, www.tutl.com or/and www.cdroots.com.





(Photo: The Spider in the Fiddle, in the park by Morten Alfred Høirup)



October 21st 2014: Himmerland is celebrating brand new album!


Shortly after our latest tour in Scotland, and while we are touring Denmark, Himmerland has good news: On the 7th of November the band will be celebrating that our new album, "The Spider in the Fiddle", is out and ready to live it's own life. At the release concert which will be performed at the venue Bartof Station at Frederiksberg in Copenhagen, we will be joined by Kirstine Sand (fiddle) and Kirstine Elise Pedersen (Cello), and the band is so much looking forward to play on this special evening! You can buy the new album at:

www.tutl.com





(Photo: Himmerland performing at Edinburg Folk Club October 2014)



August 22nd 2014: Himmerland to celebrate release of new album in November 2014!
Himmerland is going on a small tour around in Denmark in the beginning of November (see "calendar"). On Friday the 7th of November, we will celebrate the release of our new album, an album containing a lot of new compositions as well as a few old songs in new arrangements. Titles as "The Spider in the Fiddle", "Valentines Waltz", "Sweet Nights Polska", "Kaszubstep", "First Love", and many more. The release concert is going to be at the brand new music venue, Bartof Station, at Frederiksberg, Copenhagen, and you are all very welcome. Click here to get more information!



(Photo: Bartof Station, by Charlotte Bertelsen)



August 15th 2014: Beautiful, beautiful Scotland!




Himmerland will be touring in Scotland and the Orkney Islands in the very beginning of October this year, just a few days after the referendum, playing new songs and tunes from our up coming album (Release: November 1st). We are looking forward to meet old friends, to have some great food, and to taste some good old malt whiskey. But we are also very much looking forward to play for some new friends, people who has yet to experience the Himmerland family live in concert. Please help us spread the word - and we will see you very soon!





(Photo: On a beautiful day somewhere in Scotland!)

July 24th 2014: A very special night under the stars in Northern Italy!
Thank you everybody for such a beautiful and enchanting summer night in the Sibretta Arena in Bodighera, you were the most wonderful audience. This is what the local online news paper says about the concert: "The Danish band Himmerland is a genuine melting pot, a meeting between what seems to be very different cultures that the band unite and shape into a unique kind of music, full of sound and colors: The warm African rhythm, represented by Ayi Solomon, the bands' percussionist from Ghana, mixed with the happy and yet sometimes melancholy melodies from the Danish musicians. A truly unique combination, that had the audience all excited that enchanted evening in Bodighera!" - Alice Spagnolo 20 Luglio 2014 (Bodighera.net)



(Photo: Himmerland at Arena Sibretta, Bodighera, Italy)

July 14th 2014: Himmerland going to to Italy!
We are on our way to Bodighera, Italy, to perform at Festival Touscouleurs, and we are bringing some new songs and tunes, material that we have just recorded for our new album. We are very much looking forward to come to sunny Italy, and we hope to meet as many as our Italian friends and fans as possible. A couple of weeks ago we had a blast at Gooikoorts Folk Festival in Belgium - here is a great photo of the band, taken by Lieve Boussauw. See you in Italy!



(Himmerland performing on main stage at Gooikoorts Folk Festival in July 2014. Photo: Lieve Boussauw)

June 15th 2014: Himmerland is looking forward to finnish the recordings of our brand new album!
After a wonderful tour in Denmark and especially Australia, the band went into the studio in Odense, recording 13 tunes, most of them composed by the band members, but a few traditional songs in very new arrangements. During this beautiful Danish summer we will finnish the recordings and start mixing the album. The next couple of months will take the band to festivals in Denmark, Belgium and Italy. In October we will be touring in Scotland and Orkney islands. The album will be released in the beginning of November 2014. Keep informed by checking this website and on Facebook: www.facebook.com/himmerlandband



(Photo: Himmerland behind the window in the studio listening to new recordings together with Torben Sminge (Ditte Fromseier)



March 29th 2014. Himmerland is rehearsing and arranging new music!


In Himmerland we are right now preparing for the recording of our new album. We just completed a very entertaining and challenging tour across Denmark, and we used the occasion to introduce some of our new tunes and songs for our lovely audience. The tunes are composed by the band members, and they are named "Sachred Fire", "Traveldays", "Sweet Nights Polska", "Kaszubsteps", just to mention a few examples. We are very much looking forward to our next tour were we will add even more new tunes to our setlist. Australia, here we come :)



(Photo: Himmerland performing at Jazzhouse Dexter, Folk Club Fyn, Odense. (Ard Jungsma)



March 10th 2014: Himmerland on tour in Denmark!


We are working hard these days to get some new tunes and songs on the repetoire for our upcoming tour in Denmark. The tour starts on March 18th and goes until March 22nd, and we are going to play hits from our "normal" repertoire, as well as some new music by the band members, music that was never performed in public before. But why don't you come and hear for yourself - the venues are in our calendar. We are looking forward to see you soon!





(Photo: Himmeland take a bow on stage in Sicily, Italy 2013, and soon in clubs and venues around Denmark.)



February 17th 2014: Autumn Tour in April!




It has been one year since Himmerland visited Australia and New Zealand on a 22 days long tour that brought us to The National Folk Festival in Canberra amongst others. This was a huge success and a wonderful experience, and ever sinc

e we have been wanting to go back to Australia. Now it is happening: Himmerland has been invited to perform at the FolkWorld Fairbridge Festival in West Australia, on the weekend April 25th to 27th 2014 which is in the Australian autumn when the temperature is good for out door events. In the festival program we are described like "Adrenaline-infused Scandinavian roots music with an African heartbeat". On our way to Fairbridge we will also perform a few gigs in Sydney area, one concert at The National Folk Festival in Canberra, and a couple of concerts in Melbourne. All in all we'll be touring Australia from the east to the west from April 17th to April 27th. We are very much looking forward to return, and to introduce the very new material that we are working on right now, to a new audience. When we come back to Denmark, we will go into the studio to record a CD, that will be released later this year. Get to know more about Fairbridge Festival by clicking here or National Folk Festival by

clicking here





(Photo: People chilling out at Fairbridge Festival 2013)

January 8th 2014: Himmerland to visit Gooitkoort Int Volksmuziekfestival!
On their official website, the Goiikoort Int Volksmuziekfestival writes: "Gooioorts is an international festival for traditional folk music which each year brings about a confrontation between traditional and contemporary folk music.". The band is so much looking forward to go down to Belgium in July to perform at the festival, and to taste all their very nice beer! We hope to meet you there. You can get more info at: www.gooikoorts.be



(Photo: Gooikoort Int Volksmuziekfestival)

December 27th 2013: Eskil Romme to visit Showcase Scotland in Glasgow!


Himmerland's saxophone player, Eskil Romme, will be visiting Glasgow for a few days, starting on Wednesday January the 22nd. He will join the Celtic Connection festival to participate in Showcase Scotland who will be focusing on Scotland, India and Australia this year. Eskil will meet up with bookers, agents and festival organizers from a number of countries to do business on behalf of both Himmerland and the little and very exclusive Halkær Festival. If you are going to be at Showcase Scotland and would like to get in touch, just call or text Eskil on this cell phone number: +4520493530 or email him at: eskilromme@hotmail.com



(Photo: Himmerland live at Jazzhouse Dexter, Odense, Denmark 2013 (Thomas Høirup)

December 18th 2013: Himmerland wishes you all a Merry Christmas and a Happy New Year!!
Dear friends and music lovers, we would like to thank you all for attending our concerts in Denmark, The Faroe Islands, Germany, Italy, Great Britain, Australia and New Zealand during 2013. We are already looking forward to visiting more festivals and venues in 2014, and to release our second album which is being recorded in May. We are right now negating concerts in Denmark, Germany, Belgium, Italy, Great Britain and Australia for 2014, and more will come. Please stay in touch here or at our Facebook page. See you all sooner than you think ;)



November 12th 2013: Himmerland's first album nominated for a Danish "Grammy"!!
Himmerland's album, "New Roots Music from Denmark", was just nominated for a Danish Music Award (Danish "Grammy") in the category "Danish Folk Album of the Year", and our violinist, Ditte Fromseier Hockings, was nominated as "Danish Folk Artist of the Year". We are up against some very talented colleagues, so please cross your fingers and send some good wishes our way. More info: click here




October 28th 2013: Himmerland is back from Europe's largest world music expo!
Eskil Romme just returned from Cardiff in Wales, where he spend a lot of time at the world music expo Womex, speaking with organizers of music venues and festivals from Denmark, Sweden, Norway, Germany, Finland, France, England, Hungary, Senegal and more. Hopefully this will lead to even more international festivals and tours for Himmerland during the coming years. To stay informed, keep an eye on our calendar!



(Photo: Womex in cardiff, Wales. This is the hall where 2500 delegates met to network and and buy and sell music during 5 days in October 2013 (Morten Alfred Høirup)

October 20th 2013: Musicport Festival, a world of wonderful music!
Himmerland just returned from our little English tour. We really enjoyed to play at The Rivelin Folk Club in Sheffield, and we wish to thank the organizers, the lovely audience and the people housing us. After our concert there, we moved on to The Musicport Festival, a great world music festival happening in Whitby. What a beautiful and adventurous town, full of old history and wonderful people. We had great food (and lots of cups of tea), met some very nice people and we visited the local museums, restaurants, cafe's and galleries. Hope that Himmerland can some day visit Whitby during the summertime. Does anybody have a contact to the organizers at Whitby Folk Festival? In August we performed at Bath Folk Festival. Watch some of the very new videos from these and other festivals on this page. Se you soon at Womex in Cardiff, Wales.



(Photo: Himmerland at the famous The Magpie Café, Whitby, where we had Fish & Chips plus a couple of vegan courses (!)

October 14th 2013: Meet Himmerland at Womex in Cardiff!
This years international roots and world music expo, Womex, will be held in Cardiff, the capital of Wales, featuring a lot of music and business from around the world. More than 2.500 delegates and many artists from around the world are coming to the expo from the 23rd to the 27th of October 2013. Himmerland, of course, will be there too, represented by composer and saxophonist, Eskil Romme, who is also our main booker in the band. Eskil is happy to meet with you at Womex to exchanges ideas, information and music, and to tell you all about our new compositions and the new album that we are recording in May 2014. To get in touch with Eskil, just write him at eskilromme(at)hotmail.com or call him at (+45) 2049 3530.




(Photo: Eskil Romme, representing Himmerland at Womex in Cardiff, Wales October 23rd - 27th 2013 (Ard Jongsma)

September 25th 2013: Himmerland to perform at UK's biggest indoor world music festival!
Himmerland will be touring in England from October 16th to 19th, performing at Rivelin Folk Club, Sheffield, Hebden Bridge Trades Club, West Yorks, and at Musicport Festival in Whitby. The Musicport Festival is the biggest indoor world music festival in UK, and we are very much looking forward to perform there, as well as in the clubs. And ... we just can't wait to get to the harbor of Whitby to see if we can find the spot where the Russian schooner, Dimetri, with her cargo of great wooden boxes filled with mould, struck the sand heap during a terrible storm one late summer in the middle of the 19th century. On board the schooner all the sailors was gone, left behind was only the dead captain, tied to the wheel of the ship, and a big black dog (Read: Wolf) that ran of the boat never to be found again. Bram Stoker wrote this great novel about Dracula's arrival in England, and he made Whitby an important town in this book.



(Photo: Dracula is seducing the poor girl, Lucy, in Bram Stoker's legendary novel about Dracula's arrival in Whitby, England. Note the ocean behind the old cloister.)

September 18th 2013: Sunny days in Sicily!
We had a wonderful time in Sicily, performing for a lot of happy people, eating fantastic food, drinking some delicious wines and enjoying the sun before returning to rainy Denmark. Ditte brought her husband, Sigurd, and their son Falke, and we all loved Sicily, and hope to go there again. But back in Denmark we are preparing for a few local concerts during the next three weeks, before going to England to perform at Musicport Festival in Whitby amongst others. We are also planning and composing for the new album that we are recording in May, and releasing in the fall 2014.



(Photo: Chese and salami at the market in Catania, September 2013 (Morten Alfred Høirup)

August 21st 2013: Himmerland returning to Sicily!
During the weekend 12th - 14th of September, Himmerland will perform a few concerts in Sicily, Italy. Last time we were there, we watched the volcano Etna erupting just a few kilometers away, while we played an outdoor concert at a small organic avocado farm. Bot the audience and the band had a great time during the concert, and we'll never forget that night. Soon we'll be back in Sicily, and we just can't wait.



(Photo: Etna rumbling and grumbling on September 2011 (Morten Alfred Høirup)

August 9th 2013: Himmerland visiting England!
The little but exclusive Bath Folk Festival in Bath, not too far from Bristol in the south of England, is happening from the 10th of August until the 18th of August. Bath Folk Fetival is a grass roots festival run by and for musicians and dancers who are passionate about folk music. The festival is featuring bands like Lúnasa (IRE), Alan Burke & Friends (GB), Nancy Kerr & James Fagan (GB) ... and Himmerland. It will also be possible to join a workshop - f.ex. Ensemble workshop led by Karen Tweed, songs from England and Australia led by James Fagan or Traditional Danish Music led by Himmerland, and many more. More info at: www.bathfolkfestival.org



(Photo: From the Musicport World Music Festival's program)

July 25th 2013: Himmerland is enjoying a wonderful festival summer
Himmerland is having a busy summer performing at festivals around Europe. Halkær festival (DK), World Scene (DK), Kaustinen Folk Festival (SF), Summartónar (FO) and G! Festival (FO), all great festivals with a happy, listening and open minded audience. The Danish rock music magazine, GAFFA!, witnessed one very special concert at G! Festival in Faroe Islands. This is approximately what GAFFA! wrote:

"The quintet Himmerland featured violin, acoustic guitar, electric bass, drums and saxophone, and they gave us some extremely enthusiastic and well played folk music. After a little while I had to lay down my reviewer block when I was involved in a frantic chain dance that moved around in a large part of the audience area. Himmerland played also both reggae and Balkan Music and emphasized their great talent and joy of playing, and here ended the festival on my part - in high spirits".




(Photo: Himmerland enjoying a family hike in the Faroese mountains. In the front: Ditte, her son Falke and Solomon. In the background: Eskil and Morten's two sons Svend and Carl checking out the nearby water fall (Morten Alfred Høirup)

June 27th 2013: Himmerland returning to the Faroe Islands
Himmerland played its first concerts ever in July 2010 on Faroe Islands. Now, after 3 years of intensive touring around the world, the band return to the Summartónar festival, looking very much forward to get a chance to play and show all the great music we have composed since the first time we were at the Faroe Islands. We hope to see you there. More info, click here





(Photo: The Faroe Islands 2013 (Morten Alfred Høirup)

June 11th 2013: Himmerland to perform at the 46th Kaustinen Folk Festival!
The Finnish Kaustinen Folk Festival is one of the oldest and most established folk festivals in Northern Europe, with more than 80 professional bands, and 300 amateur bands performing during one week of celebrating traditional and contemporary roots and folk music. The theme of this years festival is "Out of Bounds", and the more than 30.000 people who are joining the festival, will be met by "intriguing crossover projects and multinational groups", as it says on the festivals website. This includes the five of us in Himmerland, and we will perform at the festival on the 13th and the 14th of July. More info at: www.kaustinen.net




(Photo: Kids performing on the main stage in Kaustinen during the festival in 2012)

June 10th 2013: Himmerland had a great time at Halkær Festival!
Solomon's drums nearly fell apart, Kirstine and Ditte introduced the band to some serious fiddling, and the audience loved the show. Himmerland is planning to offer to bring both fiddlers to certain festivals next year, but more about that later. New on this site (to the right) is a video clip from the Sunday afternoon concert at Halkær Festival. Next Himmerland gig is in Huset i Magstræde at World Scene during Copenhagen Jazz Festival on july 9th 2013. Hope to see you there: www.worldscene.dk

June 8th 2013: Read the true story about Himmerland. How did it all start?
Are you interested in knowing about how our little band got started? Read the new article featuring the story about how Eskil Romme brought the band together at Halkær Festival four years ago. Do you want to hear what Andrzej think about the "band soul"? Or where Eskil gets his inspiration when he composes music? This article include interviews with all the band members, and more. It was released in the international web portal, Folkworld.eu. Here is a link

May 20th 2013: Himmerland to perform at "World Scene" during Copenhagen Jazz festiva!l
On the 9th of July Himmerland will be performing at "Planeten" in Huset in Copenhagen. During five wild days of music, World Scene will present a great number of bands and musicians from Denmark, Cuba, Brazil, Tanzania, Chile, Serbia, Uganda, India, Sweden, Ethiopia, Mozambique, Mali and Poland. For more info, check out: www.worldscene.dk



(Photo: Our percussionist, Ayi Solomon, is producing the World Scene Festival, supported by all the participating musicians)

May 13th 2013: Himmerland is planning the next album!
We just met at Ditte's place to exchange ideas and music for our next album. We all have a lot of good ideas for new songs and tunes to record, some of those composed and tried out on our tour to Australia and New Zealand during March and April. Everybody in Himmerland are composing, and the new tunes include polkas, slip jigs, 7/8, polskas, waltzes, marches and much more. Follow Himmerland at: www.facebook.com/himmerlandband



(Photo: Himmerland visiting Eskil's organic farm ealier this year. Ditte is carrying her son, Falke, while Andrzej proudly presents his newly found pitch fork. Eskil's cattle is curiously watching the scenery in the background)

April 19th 2013: New videos showing Himmerland in action!
"Tabte Fjer" is a tune composed by eskil, and arranged by the band. The tune features Solomon as he takes a great percussion solo, and a very entertaining chase with Andrzej who is playing the bass. The tune was recorded Live in Davenport, Auckland in New Zealand. "Keraus" is an old Danish fiddle tune, traditionally used when the dance was about to finish. People would dance in a long chain, running thru the house telling everybody good bye, and then they would part and go home. This tune was recorded in the back yard at some good friend's place in Maipu, Santiago, Chile. Kirstine Sand is playing the fiddle, substituting for Ditte on both occasions. See more: www.kirstinesand.dk

April 12th 2013: Himmerland to perform at Halkær Festival where we all met for the first time in 2009!
For many years Eskil has been one of the leading forces organizing the small exclusive Halkær Festival, in the Himmerland-area from which the band has taken it's name. Now for the first time, the band is going to play a full set of music at the festival, featuring not only Ditte Fromseier on the fiddle, but also Kirstine Sand, who has been substituting for Ditte, while she has been busy giving birth to - and taking care of - her son, Falke. The band will play at the festival on Saturday the 8th of June (9 PM), and on Sunday the 9th (12 noon). Other bands at the 2013-version of the festival are: Fiddler's Bid (Scotland), Järvelan Pikkupelimanit (Finland), Ibeddi (Sicily, Italy), Nulle & Verdensorkestret (Denmark) and more. See more at: www.halkaer.dk



(Photo: Halkær Kro, Himmerland (DK) where Halkær Festival is taking place during the first weekend of June every year)

April 12th 2013: Thank you for a wonderful tour in Australia and New Zealand!
Himmerland is now back in Denmark where the spring has finally arrived. We have had a blast on our tour, even though we didn't have much time to do sightseeing. About 20 wonderful concerts in Australia and New Zealand, amazing venues, nice radio stations, beautiful audiences, great people organizing, really sweet folks letting us stay in their homes, and a whole lot of driving in two of the most fantastic countries in the world. Thank you so much everybody, thanks for receiving us so well, we hope to see you all soon again. More at: www.faceboom.com/himmerlandband

April 2nd 2013: Himmerland is waiting in the airport, after early flight was cancelled!
For the first timer ever, Himmerland had to cancel a concert on a tour. After spending some great days at The National Folk Festival in Canberra, peeking at the final concert Monday night, the band turned up at Virgin Australia's check in around 5 o´clock this Tuesday morning. Here we were told that the company had cancelled our flight months ago, warning us in an email that they had send to the wrong email address. Virgin Australia chose to take no responsibility what so ever, and after a long time of negotiation, we had to cancel our first concert ever. We have been looking so much forward to perform for the audience in New Edinburgh Folk Club in Dunedin, New Zealand, and we apologize and sincerely hope to be back as soon as possibly. The rest of our concerts in New Zealand will happen, just as scheduled. We are looking forward to see you all very soon.



(Photo: It is 5 o' Clock in the morning, and we have just learned that Himmerland's flight from Canberra, Australia, to Dunedin, New Zealand, has been cancelled by Virgin Australia without further notice (Morten Alfred Høirup)

Marts 29th 2013: Himmerland is getting a new audience and enjoying 'Down Under'!
After 9 days on the road, the band has now settled down in 'The Pavillon', a nice little hotel in Canberra, where quite a few of the performing artists at The National Folk Festival lives. Last night was quiet, everybody needed to relax after the last days concerts and travel, but to day the band will do the first concert at the festival. For Himmerland's saxophonist, Eskil Romme, this is a special trip. Eskil has been turing with different bands in Australia since 2001, and this is his 8th time on tour Down Under, so he meets a lot of old buddies every day. For the rest of the band, this is a fairly new experience, and the adventure has only jut begun. Follow Himmerland on tour in Australia and New Zealand at: www.facebook.com/himmerlandband



P(hoto: Solomon is shopping for Himmerland in Canberra, Australia (Morten Alfred Høirup)

Marts 20th 2013: Yes! We are now on our way to Australia and New Zealand!
Thanks to all the many friends and partners who made a huge effort, we are now on our way to Australia and New Zealand. The suitcases are packed, the voyage has started, and we are so much looking forward to meet you all. We would like to thank DJBFA, Tingluti Forlag, WMDs Folkemusikudvalg and Statens Kunstråds Musikudvalg, who are supporting us financially. We will be posting news while traveling, follow the band at: www.facebook.com/himmerlandband.


February 28th 2013: Himmerland is preparing for Australia and New Zealand!
The band is very much looking forward to visit The National Folk Festival in Canberra, and all the many folk clubs and venues in Australia and New Zealand. We'll be touring Down Under from March 22nd to April 9th 2013. Eskil Romme has been working on this tour for quite a while, and he thanks all who has been involved in this big puzzle. The fiddler, Kirstine Sand, is coming instead of Ditte, who has to take care of her 5 month old boy, Falke, back in Denmark. Kirstine is a great fiddler, and last year we toured with her in Denmark, Scotland and Chile. Check out our tour schedule ("Calendar") to see where we are performing, and learn more about Kirstine at: www.facebook.com/kirstine.s.christensen

January 7th 2013: Himmerland on tour in Germany and Denmark!
From January 31st we will tour in Germany for the first time, performing in Solingen, Köln, Wuppertal and Minden, before continuing the tour in Denmark. Back in Denmark we will do a concert at the famous Copenhagen Folk Club, amongst other places. We are happy to welcome back on stage our fiddler and singer, Ditte Fromseier, who will also bring her newly born son, Falke, on the tour. More info: Look in our calender or check out our facebook site on www.facebook.com/himmerlandband



(Photo: Ditte, her husband Sigurd and little Falke on tour in Germany with Himmerland (Morten Alfred Høirup)

January 1st 2013: HAPPY NEW YEAR!
Himmerland is wishing all friends and fans a really happy and exciting 2013, with lots of positive challenges and good results. We are so glad that we got to perform live for so many of you during 2012. We did concerts in Denmark, Sweden, Italy, Greece, Ukraine, Russia, Canada, Scotland and Chile (South America), and we can't wait to meet you all again. During 2013 Himmerland will be doing gigs in Denmark, Faroe Islands, Finland, Germany, Great Britain, Australia and New Zealand, and more is to be confirmed. During 2013 we will also be composing new tunes adding new material to our repertoire, in order to record our second album in 2014. You can buy our debut album from August 2012 online (mail order) at www.folkshop.dk Happy New Year!!

December 21st 2012: Merry Christmas and a Happy New Year to all our friends!

Himmerland just returned from the Athens, Greece, where we performed at the Christmas celebration at The Danish Institute for Science and Art. Now everybody in the band are preparing to celebrate Christmas in different ways. Solomon just arrived in Ghana, Africa, where he is enjoying some quality time with friends and family, Eskil is following the family tradition and is enjoying his Christmas days on the farm together with his wife and a couple of his 4 grown up kids. Ditte is enjoying her very first Christmas with her husband and their newly born son, Andrzej is having some nice food and good relations with his family from Denmark and Poland, Kirstine is visiting her family on Funen where she grew up, and Morten Alfred is spending some nice time with family and good friends at Frederiksberg, Copenhagen. We wish you all some lovely Christmas days, and a wonderful new year! See you all in Denmark, Finland, Germany, Great Britain, Australia, New Zealand or somewhere ells during 2013. You can follow Himmerland here on our website, or on Facebook: www.facebook.com/himmerlandband



(Photo: Hot Club Himmerland 2012)

December 6th: Himmerland is preparing for Down Under.
The band is getting ready for our 3 week tour to Australia and New Zealand in Marts/April 2013. We are applying for visas, buying flight tickets, figuring out which instruments to bring and renewing our repertoire. The trip will take its start at The National Folk Festival in Canberra, and will take us to quite a few venues during more than 20 days of touring. Fiddler Kirstine Sand will be substituting for Ditte Fromseier, who will stay in Denmark taking care of her newly born son. More info here: www.folkfestival.org.au

November 29th: Himmerland is looking forward to another busy year in 2013.
Himmerland are right now negotiating and confirming tours and festivals in Australia, New Zealand, Canada, Great Britain, Finland, Denmark and Faroe Islands, amongst others. We are looking forward to perform in a venue near you. Please follow the news updates on this site to get information about our performance schedule. You can also find us on Facebook.


November 29th: Greetings from Fair Isle, Shetland.
Himmerland just came home from a great Scottish tour to Fair Isle, Lerwick, Glasgow and Edingburgh. After our concert at Fair Isle, we had trouble getting away from Island due to the huge clouds and the fog, but we managed after a couple take-offs and some waiting and nice tea drinking in good peoples houses. "Hope the rest of your tour went well, we were relieved you could make your concert, and here at Fair Isle you have left behind in our minds the beautiful sound of Himmerland, and the stories in the songs. Thank you all VERY much." - Lise Sinclair, singer/song-writer, Fair Isle. Thanks for the kind words, Lise :)




(Photo: Fair Isle, Scotland (Shetland Island) 2012 (Morten Alfred Høirup)

November 28th: November News from Denmark.
In the beginning of November, while Himmerland had a great time touring in Scotland, Ditte and her husband Sigurd got a little son, 51 cm long weighing 3.2 kilos. The little family is very happy, and Ditte is getting ready to play music again. Eskil is booking for a wonderful venue in the northern part of Denmark. The name is Halkær Kro (Halkær Inn), and they where celebrating their 20th anniversary last Saturday, with a full house and a lot of great music from Denmark, Ireland and Africa. Solomon bought his ticket for Africa, just like he does every year around winter time, Andrzej, who is also a good computer programmer is being given even more responsibility at his job, and Morten Alfred was given a Prize of Honor at the Danish Music Awards Folk, just a few days ago. Kirstine, who is substituting for Ditte in Himmerland, is in Japan right now eating sushi and performing with the band Svestar. And we are all looking forward to see you in the new year!

November 2nd 2012: Himmerland tours on Shetland Islands and Scotland.
While we wait for our violinist, Ditte, to give birth - it can be any day now - we are touring with her good friend and substitute, Kirstine Sand, who also went with us to Chile. On November 5th, the band travel to Scotland, to perform a number of concerts at Fair Isle, Lerwick, Glasgow and Edingburgh. We just got the message that Solomon's work permit has come, so now we are happy. Here is a link to a recording of Hiimmerland in Valparaiso in Chile, October 2012: http://www.youtube.com/watch?v=Lwpc3F7IUCs

November 2nd 2012: Himmerland on Facebook
Join Himmerlands group on Facebook, and get news and exchange openions while we travel: https://www.facebook.com/groups/HIMMERLAND/?fref=ts

October 16th 2012: Himmerland home from 12 great days in Chile, South America!
Himmerland just returned from 12 great days in Chile, South America. The band did 8 very different concerts. You can learn more at Facebook and youtube. We toured in Rodrique's beautiful old blue Volks Wagon, Elvis, which can go 80 kilometers an hour down hills, 35 up hills, and we experienced it all: Wonderful friends, police investigation, tear gas in Valparaiso, video filming in the streets of Maipó, great fish soup and wine, pisco, the Andes on a sunny day, traditional Chilean music, Chilean winter, new Chilean music, free impro, lots of talent and great ideas and much more. A wonderful tour where we meet some super sweet, beautiful and very smart and inspiring people. In November the band goes to Scotland and at the Shetland Island!!



(Photo: Himmerland walking down the street to down town Valparaiso in the southern part of Chile. Note the many colored houses, and the chaotic electric wires above the street (Morten Alfred Høirup)

September 1st 2012: Himmerland performs at Urozhai International Festival in Moscow!
Later today Himmerland will perform as part of the annual celebration of the harvest in the Russian capital, Moscow. We have been on a long journey, performing for wonderful audiences at festivals in Denmark, Sicily, Ukraine, and now in Russia, presenting our new album. We all leave for Denmark right after the concert, just to get ready for our tour in South America in October.

August 29th 2012: Himmerland celebrates the Danish Tønder Festival.
Tønder festival is one of Denmark's oldest music festivals, but this year it presented each self in a new format. A nice festival area, new food possibilities, new open air stage, a mirror tent from Belgium full of blues music, and a tent (P4 Scenen) full of new Danish roots and folk Music. The small Danish online magazine, rootszone.dk, wrote after watching Himmerland's performance at Tønder Festival: "Together the five musicians found common ground, and the result is an exciting show." Tønder Festival: www.tf.dk

August 24th 2012: It's here! Himmerland's new album has arrived!
The new album "Himmerland - New Roots Music from Denmark" has arrived. It can be purchased at www.millstream.dk and www.folkshop.dk, not to mention www.tutl.com. Soon the album will available digital as well. Himmerland will be bringing the album to all our concerts during the next year. Come and get a signed copy!




(Photo: The new album has arrived 2012 (Morten Alfred Høirup)





August 21st 2012: Himmerland travels 10.000 km to visit four festivals and four countries, in just eight busy days!

Himmerland will be performing at the Danish Tønder Festival (www.tf.dk) on Saturday evening on August 25th, at Alkantara Fest in Sicily, Italy on August 28th, at Koktebel Jazz Festival in Ukraine on August 31st (www.koktebel.info), and finally at Harvest Festival in Moscow, Russia on September 1st 2012. We will be doing a lot of flying, and we will bring our brand new album, "Himmerland - New Roots Music from Denmark" on the tour. We just can't wait!




(Photo: Himmerland one a week tour crossing quite some borders 2012)



August 10th 2012: New Himmerland album is in the printing!
The new album "Himmerland - New Roots Music from Denmark" is being printed now, and will be released at Tønder Festival August 25th 2012. The album contain 13 tracks, 3 old Danish songs, one medieval ballad, and 9 sets of new tunes composed by the band members. It will be released on TUTL, a Faroese record company, and distributed by TUTL and Go Danish Folk Music (www.folkshop.dk)

August 9th 2012: Himmerland to perform at the Danish Tønder Festival
Himmerland just returned from the Swedish Urkult Festival after a couple of good and pretty "crazy" concerts, performed for a full house of happy people shouting, clapping, dancing and singing along. An amazing festival, also for the band members, who where able listen back to Swedish Radio's recordings of both concerts, on their way home to Denmark. Next challenge is the great Danish Tønder Festival on August the 25th. The festival has renewed it's concept this year, to be fit for for the future, and Himmerland is part of the "Folk Spot 2012" program. www.tf.dk

July 26th 2012: Fiddler Kirstine Sand to substitute for Ditte Fromseier
It has been obvious for some time now, that Himmerland's great fiddler, Ditte Fromseier, is going to become a mother soon. Ditte is due to late October, and to secure Himmerlands concerts in the fall, we have asked her colleague from Fiolministeriet, fiddler Kirstine Sand, to substitute for her. We are grateful to Kirstine for taking up the challenge, and we are very much looking forward to tour with her in Chile, South America, in October, Scotland and Shetland in November, and in Greece in December. More about Kirstine at: www.kirstinesand.dk

July 23rd 2012: Himmerland to peform at Urkult Festival in Sweden
Himmerland just returned to Denmark after some lovely days at the Mission Folk Music Festival in BC, Canada. Due to a powerful thunder storm in Toronto, we arrived by different flights at different times, but everything is al-rigt and we are already looking forward to our next performance. On the 3rd and the 4th of August, we will perform at the 18th Urkult Festival in the middle of Sweden. The festival is known for its beautiful nature, their many great roots- and world music acts, and is visited by about 10.000 people a day. More: www.urkult.se



(Photo: Back stage at Urkult Festival 2012 (Morten Alfred Høirup)

July 15th 2012: Himmerland is mixing their debut-album right now
We have recorded 13 titles, most of them composed by our self, and the rest - some old Danish songs - in new arrangements by Himmeland. The album is scheduled to come out in the fall, and everybody in the band are very much looking forward to present the new album for a Danish and an international audience.

July 14th 2012: Now starts a busy late summer for Himmerland
13 tunes and songs was the result of a week in the studio at The Academy of Dramatic Arts and Music Southern Denmark. The music is now being mixed, while we are preparing for the journey to Mission B.C in British Colombia, on the Canadian west coast. Himmerland will perform at Mission Folk Festival from July 19th to July 22nd. On August the 3rd, the we will travel to Sweden to play at Urkult Festival. More info: www.missionfolkmusicfestival.ca and www.urkult.se


July 5th 2012: Himmerland to perform in Copenhagen during the Copenhagen Jazz Festival
Himmerland will be performing at the World Scene in 'Huset i Magstræde' on Monday July 9th at 7PM. The band will do a 1 hour set, introducing some of the songs and tunes from the upcoming album, that we are recording and mixing during this week. More info at: www.huset-kbh.dk

June 20th 2012: Himmerland to visit four countries an four festivals in just eight busy days
The band will perform at the Danish Tønder Festival (www.tf.dk) on Saturday evening on August 25th, at Alkantara Fest in Sicily, Italy on August 28th, at Koktebel Jazz Festival in Ukraine on August 31st (www.koktebel.info), and finally at Harvest Festival in Moscow, Russia on September 1st. We just can't wait!

June 9th 2012: Himmerland is recording a brand new album
During the last week go June and the first week of July, Himmerland will be recording a bunch of new tunes and some songs. The tunes was all composed by band members, but the songs are old Danish material, arranged by the band. The album is expected to come out in August, just in time for our gig at Tønder Festival.

April 6th 2012: Himmerland to Mission Folk Festival in Mission BC, Canada
In July 2012, Himmerland will be performing at Mission Folk Music Festival in British Colombia, on the Canadian West coast. The band will be featured together with other Danish bands such as the folk big band, Habadekuk, and the Greenland singer/song-writer, Rasmus Lyberth. www.missionfolkmusicfestival.ca

April 3rd 2012: Himmerland to tour Australia and New Zealand
We are right now booking for Himmerland to tour 'Down Under' during the spring 2013. On the tour we will present our brand new album. The album will be released in Europe some time during the fall 2012. Are you interested in booking Himmerland, or do you have an idea to where to arrange a concert? Please contact Eskil Romme at: eskilromme@hotmail.com

April 2nd 2012: Himmerland to visit South America
Himmerland will be touring in Chile, South America for two weeks in October 2012. The tour will take the band to venues around the country, and to Festival International de Musica Immigrante de Valparaiso. More info: Se 'Calendar'.


March 21st 2012: Himmerland performing at festival in Québec
Himmerland will be performing at the international showcase, Montreal Rendez-Vous TRAD, and at Festival La Grande Rencontre both in Montreal, during May 8th to May 13th 2012. On this tour we will be testing some new material for their recording sessions in Denmark in June 2012, sessions that will result in the release of a new album in the fall. We are looking forward to see you in Montreal!

February 1st 2012: Himmerland is now booking for 2012 and 2013
Himmerland is traveling far during 2012 and 2013. Already now we have concerts coming up in venues and festivals in the following countries: Denmark, Sweden, Scotland, Italy, Russia, Ukraine, Canada, Chile (South America) and Australia, and more is coming up. If you are interested in booking Himmerland, please send us an email: eskilromme@hotmail.com or mortenalfred@gmail.com



(Photo: Solomon picking organic avocados at a farm in Sicily, Italy 2012 (Morten Alfred Høirup)

February 1st 2012:New album by Himmerland in the fall of 2012
Himmerland is right now working on new material, and we are planning to record and release our next album i June 2012. The first album, Himmerlandsmelodier, was released in 2009. This was an album of entirely new recordings of music composed by Eskil Romme, where the music on the new album will be composed by Eskil and the rest of the band.

July 1st 2011: New music from Himmerland
The musicians in the band Himmerland met when we were recording saxophon player Eskil Rommes album, "Himmerlandsmelodier". Since then we have expanded the concept, and we are now playing new music composed by the band members. We have just recorded some music by Eskil, Morten and Ditte, you will find it on this website. The tunes are: "Danish 7/8" by Morten, "Skrumlehesten" by Ditte , "Snart Afsted" by Eskil Romme, "Gæstebud" by Morten and "Sol Deroppe" with lyrics by Hans Christian Andersen and music by Heise.

January 1st 2011: Do you want to know more about Himmerland?
Send us an email, and we'll invite you to our Dropbox-account where you can download new music, photos, an interview with saxophone player Eskil Romme (in English), and much more. It's free of any charge. Please send an email with your request to: mortenalfred@gmail.com